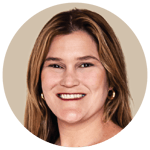 Stephanie Douglass is the Chief Revenue Officer at Little Bird Marketing. As one of the "peeps" she was gracious enough to host our marketing experts panel. Traveling back from Chicago she shared with us her take on this super fun and always informative day.
One day. 5 speakers. 5,976 ideas in my head.
Going into Insights Marketing Day this year I knew it was going to be good. When it comes to B2B digital marketing, it helps to get hands on experience along with great advice. We're often asked questions like, "How can I organize a marketing plan so I know we'll hit our revenue goals?" and "How do you develop an effective content distribution strategy?" This is the place where the questions are asked and answered -- out loud.
I've attended this event twice before and have never been disappointed. This time I was attending as a part of the Little Bird Marketing team and was hosting the event with our partner, Fieldwork. I had a sneak peek of the speakers and the content and maybe a little bit of a girl crush on Ann Handley (over 450,000 LinkedIn followers, anyone?). Now, trying to provide a "recap," I'm struggling.
How do I communicate the energy of 100 of my now closest LinkedIn friends?
How do I write something Ann Handley might read?
How do I tell you a story Johanna Walker will be proud of?
How can I approach writing this article for great SEO á la Andy Crestodina?
It's one of those rip-the-bandaid moments, so here goes.


Ann Handley

The first thing attendees noticed upon arriving at Insights Marketing Day, aside from the beautiful swag awaiting them, was a curious-looking woman in a butterfly suit. I think it's safe to say that when presenting in a butterfly suit, it's pretty important that your content kicks ass. Lucky for us, the presenter was Ann Handley, and the content, did indeed kick some ass. She eased our fears of AI stealing our jobs but still left us with a few tips for the future:
ChatGPT will cause a drop in unbranded search traffic - keep an eye on SEO and how your site traffic might be affected.
Generative AI can't replicate your brand voice. Make sure you have one to stand out from the lazy content creators out there.
A direct relationship with your audience will be critical, and your email list will continue to pay off.
Trust is paramount. ChatGPT should be treated like Wikipedia; don't believe everything you read. If your brand is to be trusted, your content needs to be vetted.
While B2B digital marketing has strategic considerations, the audience is still human, and those humans have actual needs, including being at least a little bit entertained with the copy you write.
Follow @NEORSD for content inspo. Even sewer management organizations can write compelling content. You. Are. Welcome.

How do you like that swag?
Priscilla McKinney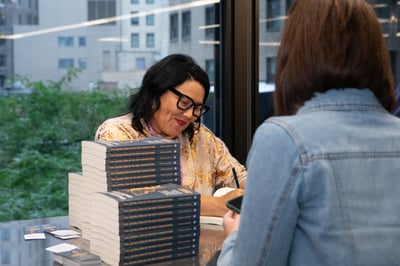 The butterfly suit was followed by one of the most anticipated presentations of the day. Priscilla offered an overview of her newly published book, Collaboration is the New Competition. She gave us the mindset shift needed to embrace collaboration in the business world and realize that collaboration isn't just about bringing diverse voices to the table.
Today's consumer wants out of your sales funnel. If you want to endear yourself to them and have a real shot at their business, help them with a problem now. Collaboration can lead to co-creation!

Keep an eye out for itchy backs! If you can scratch someone's back now, it will develop a partnership that will benefit you in the future. Collaboration can bring more people together for bigger wins!

Social networks aren't to be sold

to,

they're to be sold

through.

Collaboration can be magnified by going digital first!



Dino Delic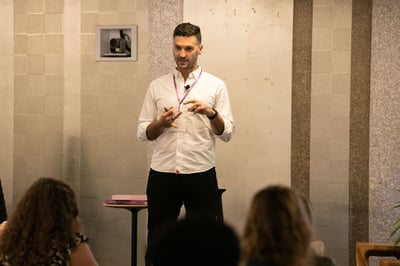 Dino dove into the mix with a fresh look at influence and what that means for brands. He reminded us that our brand is not how we see ourselves but how consumers see us. He shared some of the most powerful ideas for integrating B2B influencers in our marketing plans:
Communication is conversational, it's no longer broadcast-only.
Influencer marketing management requires attention to detail in setting up goals and key performance indicators (KPIs) to measure success.
Traditional segments are over, tribes are well-established online.
Consumers trust each other more than they trust brands.
Authentic messaging and influence can do more than ad dollars spent on direct media.

Andy Crestodina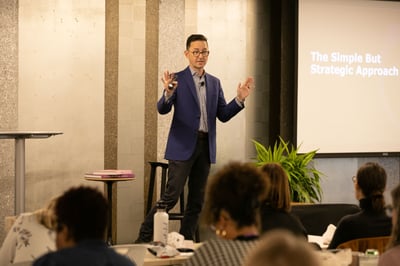 Ever heard of a 194-slide presentation given over 40 minutes with no one falling asleep? 🙋 🙌 Two words that describe how we feel after listening to Andy speak: Mind. Blown. He guided us through an SEO journey that made ranking for "space launch service" seem easy. Proper SEO is a foundational strategy to make any inbound marketing funnel functional.
We can't spill the tea on ALL of that content in this one blog, but we can tell you it starts with an SEO mindset, which means asking these questions:
People looking for me are searching for what?
What do the search results look like for each page our team creates?
Which page on my website is

relevant

for that phrase?
Is this page one of the top ten pages on the internet for this phrase?
ChatGPT is your friend, but use it wisely.


Johanna Walker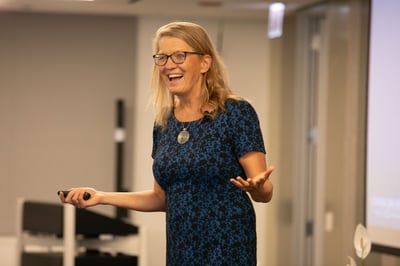 You know, after the day we were having, it was hard to imagine the presentations getting much better. We had nothing to worry about because Johanna followed those acts like the pro she is and taught us a thing or two about telling a good story. Leading by example, she opened with a story about how getting personal can lead to greater success in business and gave us the tools to tell our own stories more effectively. Some of those tools are:
The ARC of an effective story
Understanding what's at stake