We all face many difficult challenges as business owners. But more than anything else, we ultimately work toward getting more and more new potential customers to our website on a consistent basis.
On the flipside, our online marketing efforts are also geared toward additional brand exposure. By exposing your brand to new and interesting audiences, you can easily create a bigger online presence which will lead toward greater sales and profits.
Are you looking to grow your website traffic? Are you attempting to create greater levels of brand exposure?
Many of us have a plan in place already. But is your plan going to lead to success or failure? Is your plan going to kill your online business?
Tracking Business Metrics
One of the easiest ways to kill your online business and destroy your marketing campaign is to avoid tracking important business metrics. By failing to track your online marketing efforts, you'll find it nearly impossible to achieve lasting success. In fact, even if you have a small measure of success, it will eventually dry up and disappear because your failure to track business metrics will make it impossible to figure out what you've been doing right and what you've been doing wrong.
When it comes to online conversions, you have to seriously focus on tracking email sign-ups, search engine conversion rates, paid traffic conversion rates, cost per lead, the value of your visitors, how much you spent to acquire customers, and other metrics that might seem pertinent to your business.
Why? By tracking this information, you'll have valuable data that will pinpoint exactly where you're having success and precisely where you need to improve. As you can imagine, this is priceless information that you can use to tweak your marketing campaigns to make them even more profitable.
And speaking of being profitable during marketing campaigns, you also need to track your productivity during this stage of the game. You may not be as productive as you think you are, and this could ultimately hurt your overall performance.
Let's say you're working on a marketing campaign for a crowdfunding site like Plumfund. To find out how much effort you're putting forth, you can use online time clock software like Clockspot or Toggl to track every move you've made. Not only will this help you figure out how much to bill your client, it's also important to know how much time you're spending on each campaign to discover where you need to focus more and what tasks need less attention.
How Is the Content on Your Website?
As far as online marketing is concerned, the quality of the content on your website will have a huge impact on whether or not you succeed or fail. If the content quality is poor, your marketing campaigns are going to fail. If the quality of your content is good or even excellent, your marketing campaigns will succeed, customers will gravitate toward you more, they'll appreciate that you're an authority in your market, and they'll begin following you as they become rabid fans.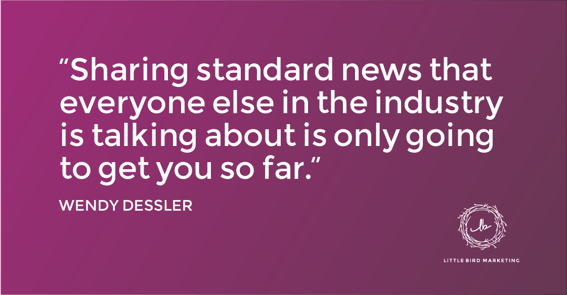 You have to go above and beyond when creating content for your website. Sharing standard news that everyone else in the industry is talking about is only going to get you so far. You have to put your own spin on things, really make it your own, and approach each topic from a unique perspective. This type of content creation will keep your readers coming back for more.
Conclusion
If you use the strategy shared today, you will grow your company, improve your brand awareness, and certainly create an amazing online business. So begin implementing the suggestions shared today to achieve online marketing success.
---
Blog by Guest Author Wendy Dessler

Wendy is a super-connector with Outreachmama who helps businesses find their audience online through outreach, partnerships, and networking. She frequently writes about the latest advancements in digital marketing and focuses her efforts on developing customized blogger outreach plans depending on the industry and competition.
---
Little Bird proudly uses Hubspot to facilitate great content marketing. Want to give it a test drive?