With our changing world, it's probably time for your company to pivot your marketing message in some way. Unsure where to start? Take it back to the beginning - your annual marketing plan!
Our hope is that by the end of this blog, you have a clear understanding of what your annual marketing plan should entail and how to properly execute your strategy.
---
WHAT IS A MARKETING PLAN?
A marketing plan is a roadmap to organize, execute and track your annual marketing strategy. It ensures your marketing goals and business goals are aligned and delivering desired results.
---
Whether you lack a plan altogether or struggle to stay on track, there's hope for you! Almost 50% of marketers confess that they don't have a clearly defined marketing plan. And only 37% of B2B marketers have a documented content marketing strategy that they are following.
Although we're talking annual marketing plans here, if your strategy is missing or misaligned, we encourage you to change gears rather than pushing on. Before you continue down the path of misguided content, evaluate these 5 essential components to an annual marketing plan.
---
HOW TO WRITE AN ANNUAL MARKETING PLAN
1. Define Your SMART Goals
2. Identify Your Personas
3. Outline Your Content Plan
4. Complete a Competitor and Content Gap Analysis
5. Determine Which KPIs to Track and Measure
---
1. SMART Goals
Setting goals and reaching them are two different things. Whether you have short-term or long-term goals, defining your SMART goals at the beginning of your marketing plan process can help you get started and manage the process - increasing the likelihood of sustained success. For each goal you set, it should be:
S - SPECIFIC
When creating a goal, you want it to be as short, crisp, and specific as possible. "To have a good marketing year," isn't a reflection of what your company actually accomplished. Imagine that your boss is about to leave for vacation and you have less than 90 seconds until she runs out the door. She wants to quickly hear what you have planned for next year's goal. What are you going to tell her that concisely explains your plans?
M - MEASUREABLE
Companies often say they want to "increase their social media following." While that is a trackable goal, it's not worth tracking. If you start the new year with 100 followers, and end with 101, technically you met your set goal. But if you switch that goal to read, "We want to increase social media following by 25%," suddenly you can measure your progress every month to see if you're on track to ultimately jump from 100 to 125 followers.
A - ATTAINABLE
We'd love to send you off with the message, "DREAM BIG, KID!" But, sometimes those history-breaking goals aren't attainable. Remember, it's still important to keep these goals realistic. If in your company history you've generated an average of 10 leads every month, jumping to 2,000 leads per month would be a drastic change. Many businesses do this to push employees outside their comfort zones, but in reality, all this does is discourage the worker as reality sets in.
R - RELEVANT
Why have a goal is the goal doesn't actually matter? If you know that your industry has taken a big hit this year, or your marketing budget has been drastically cut, those factors should impact the goals you set. In order to determine if your goals are relevant, look at your resources. Notice any major constraints? You may need to adjust your objectives.
T- TIMEBOUND
While having all the aforementioned helps develop a solid goal, you need to ensure you have a deadline for meeting that goal. If you're creating this plan at the beginning of the year, your obvious timeline runs through December 31st. It's also important to set milestones along the way. Consider these checkpoints - ways to track and award your progress or make a pivot if the strategy isn't delivering.
2. Buyer Personas
With goals in hand, it's time to turn your focus towards your ideal client personas. Your ideal client personas, or buyer personas, are a representation of your ideal customer. They are semi-fictional characters based on detailed research of your actual customers.
Want to know how to build the Perfect Persona?
You've heard us say it before: the number of content pieces you should write without your personas is ZERO. Keep your buyer persona somewhere easily accessible (for us, that's our Trello board!) to your marketing team; it should be consulted regularly!
3. A Content Plan
What's a strategy without execution? Your content plan outlines the types of content you will use in order to reach your goals. Here are a few pieces that should be included:
A STRONG KEYWORD STRATEGY
SEO tends to be a buzz word in today's marketing industry. Search Engine Optimization (SEO) refers to the improvement of your unpaid website traffic results by increasing the visibility of your website to users of a search engine.
The goal of a solid content strategy is to establish your authority around a certain set of keywords. Before ever writing a blog, do your keyword strategy. Work variations of your keyword phrases throughout your blogs, but be careful to not keyword-stuff.
STRATEGY-DRIVEN BLOGS
Blogging for the sake of blogging is not helpful - to you or your ideal client. Your blog titles should align with your perfect persona's persistent problems. Make them helpful. Make them focused.
Also, see above. Use those keywords!
LEAD NURTURING EMAILS
Ever feel like people are ignoring your emails? It's probably because they are. Before you send another email, pause and ask yourself: is this helpful?
A well-crafted email strategy should nurture leads by providing helpful and timely information. If you utilize your email list for decision stage sales emails only, it will surely dwindle over time.
ORIGINAL RESEARCH
Original resource is about finding the gaps and asking the right questions. Our good friend Andy Crestodina says, "The research is the stuff that attracts the links." He explains that owning the digital space around your area of expertise is crucial to SEO, rank and authority.
Andy explains it like this:
What's the lifespan of a website? Anyone know? No one knows. I couldn't find that information on the internet, so I got an idea. I downloaded a list of the top 50 marketing websites. I emailed that list to a virtual assistant and she went through and looked at every one of those websites in the Wayback Machine.

The post is called "What's The Average Website Lifespan? 10 Factors in Website Life Expectancy." The answer is 2 years and 7 months. That information did not exist on the internet prior to me publishing this URL. Wikipedia now links to my article.
A PILLAR PAGE
Pillar pages are the powerhouse of an inbound marketing strategy. They are much longer than a typical blog post and cover all aspects of the topic on a single page.
HubSpot explains,
The idea of a pillar page is to cover broad content in a way that is highly linkable itself -- that is, external sites would link to it as a canonical resource for the topic.
While gated content can help you build your email list, pillar pages help you gain authority with search engines. Search engines reward websites whose content is organized by topic clusters.
PROMOTIONAL WORKFLOW (SOCIAL)
For every piece of content you create, it should be promoted on social multiple times. You've done the heavy lifting of actually creating the piece of content - don't let it stop there!
In addition to your promotional pieces - schedule a few non-campaign social media posts a week. This would include things like employee spotlights, original research stats and social shares from other reputable sources.
4. An Accurate Competitor and Content Gap Analysis
While your goals and personas build the bulk of your marketing strategy, it's important to gauge your competitive edge. Through a competitor analysis and content gap analysis, you can easily asses where you stack up against your main competitors and where there is opportunity for rank in your industry.
COMPETITOR ANALYSIS
We don't want you to spend too much time here. We've seen countless businesses so focused on the competition, that they neglect important responsibilities within their own organization's marketing plan. Conduct your competitor analysis once a year and check in on your ranking quarterly.
When researching your top 5 competitors, we suggest noting:
Whether they do their marketing in-house or outsource
Who their leadership team is
What their marketing strategy is (this will probably revolve some reverse-engineering)
What social channels they are active on and how many followers they have
Their rank on industry keywords
CONTENT GAP ANALYSIS
Before you start investing time and resources to create content, you need to figure out what's worth creating in the first place.
We all want to rank for something. However, your most desired keywords may be out of reach. A thorough content gap analysis determines where the SEO gaps in your industry and your company's expertise align.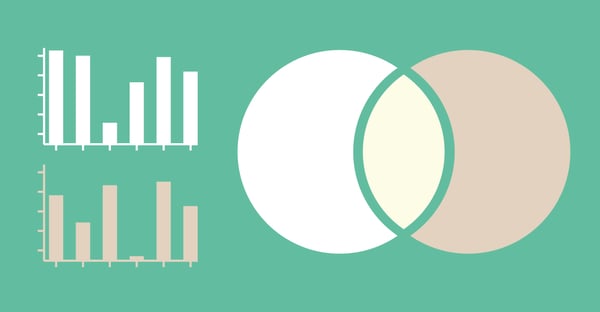 The insight you collect from your gap analysis will help you optimize your approach over time.
5. Defined Marketing Metrics and KPIs
In digital marketing, data is how we track progress and make informed decisions. From determining your marketing budget to the details of your next campaign, your marketing metrics guide the way to success. The metrics you choose to track should be directly in-line with your SMART goals.
MARKETING METRICS
Marketing metrics track the status of marketing actions. They are quantifiable measures used to gauge performance or progress.
KPIs
Otherwise known as Key Performance Indicators, these are metrics that indicate progress toward a particular goal. While you may track multiple metrics, you should have a small number of highly focus KPIs.
---
BONUS TIP
Content management systems and marketing automation software make tracking KPIs easy. With customized reports and real-time data, your able to monitor your progress.
---
To know where to go NEXT, you need to know where you stand NOW. Before you jump into creating a marketing plan, pause. An accurate assessment of your business and marketing strategy is the next step. And we'd love to help.