guest blog by Will Leach, TriggerPoint
Chances are your marketing is incredibly ineffective at driving long term behavioral change. I say this without knowing anything about your marketing - I don't need to.
I say this because I study human behavior, specifically behavioral design, and I know how cognitively complex today's world is and the uphill battle your marketing faces just to make it into people's conscious consideration.
Did you know estimates suggest people are exposed to 700 marketing messages per day? Not brand impressions, but actual messages. Technology has made it easy for a kid in Ireland with a smartphone to create an ad, micro target that ad, and push it to you for free across four different platforms before he's had his first sip of coffee.
How many of those 700 ads do you remember from yesterday? How about today?
I can't recall a single one. And THAT is the problem if you are in brand marketing. We're living in an era where we're inundated with advertising, much of it bad, and it's growing exponentially. To function in this era, our subconscious has developed a very sophisticated psychological filter that eliminates over 90% of marketing before it ever reaches our conscious consideration. Are you confident your messaging is passing through your customer's filter? If not, there is a way to be sure.
Mindstate Marketing is the Answer
The way to seamlessly pass through this filter is to use behavioral design to develop marketing messages that have been psychologically optimized.
This is a concept I call "Mindstate Marketing." In my book Marketing to Mindstates, I define Mindstate Marketing as: "…the process of applying the latest neurological and behavioral insights to the development of customer interactions to psychologically influence and change consumer behavior. It's the recipe behind today's best marketing—marketing designed to get people to act."
Brands such as Amazon, Airbnb, Prudential, and even Walmart are using Mindstate Marketing to drive their customers to "feel more" and "buy more." And there is no reason why you shouldn't do the same. If you're unsure whether Mindstate Marketing is right for your brand, these three questions will help you decide:
Are you trying to change consumer behavior?
Are you not seeing consistent impact with your marketing?
Are the conversations you're having with customers a one-way street?
If you answered "yes" to any of these questions, then integrating behavioral design into your marketing strategy and activation plans is a good move. So, what do you now?
In this article, we'll look at three steps you can take to make this happen.
Step #1: Find the Right Foundation
Like with any topic, learning as much as you can is the best place to begin. There are a number of great resources out there on behavioral design. In addition to my book, I'd recommend Pre-Suasion by Robert Cialdini, Small Data by Martin Lindstrom, The Choice Factory by Richard Shotton, and Methods of Persuasion by Nick Kolenda.
If you're into social media, there are some great accounts you can follow. Authors like Nir Eyal, Eric Singler, Susan Weinschenk, and Nathalie Nahai all have a strong social media presence and write prolifically in this space, so check them out.
Finally, if you love podcasts, definitely check out Behavioral Grooves, The Brainy Business, Brainfluence, and Hidden Brain from NPR. They're all awesome.
Step #2: Find the Right Model
The next step is to choose a strong behavioral design model. Without one, you're flying blind. You won't be able to understand if something's not working or be able to fix it.
Whatever model you choose, be sure it's not focused on just one science like motivation or behavioral economics, but rather several facets of behavioral psychology. Humans are multifaceted, which means your behavioral model should be, too.
My model is called the Mindstate Model. Others I'd recommend you check out are the Habit Model by Charles Duhigg, the Hook Model from Nir Eyal, the Tiny Habits Model by BJ Fogg, and the Four Tendencies Model by Gretchen Rubin. Each one is helpful in its own way; the secret is to find the one that makes sense to you and actually works best for your brand.
Step #3: Find the Right Partner
In my experience, if you need help integrating behavioral design into your marketing, it's best to have somebody who comes from the real world, not just academia. You want a partner who's been in your shoes and understands your world. That way, you'll relate to each other and be able to make your marketing relatable to the consumers, too.
Second, make sure whoever you're working with is making things interesting and fun. Not just for your interactions, but also for the messaging. If what you put out there is generic, boring, or not relatable (i.e. too scientific), it won't land with consumers.
Effectively implementing Mindstate Marketing comes down to the right mix of research and marketing expertise. Is the partner you've chosen skilled in both these areas?
The Path to Psychologically Persuasive Marketing
So, how do you get your customers to "feel more" and "buy more" like Amazon and Walmart? Well, if your marketing has been built on the right foundation, using the right model, and executed by the right partner, you have a much greater chance of creating messaging that is psychologically persuasive and meaningful. It's tough to be part of the elite 10 percent, but Mindstate Marketing can help get you there.
---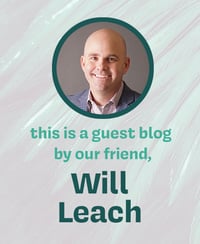 This blog was written by Will Leach, Founder of TriggerPoint. Learn more about Research for Good's approach.
Follow Will on LinkedIn and Twitter
Check out Priscillas's interview with Will on Ponderings from the Perch.