After a whirlwind week of impactful presentations, meaningful connections, countless cups of Earl Grey and a quick trip to a cat cafe, I'm back from the 2019 Quirk's Event in London, England. With attendees numbering 1,200, this inaugural event was nothing short of amazing! If you weren't able to attend, sadly, you missed out. Don't worry, I have your back. Read on for a comprehensive, behind-the-scenes look at the event from attendees, speakers and Quirk's staff.
Quirk's London 2019
For 30 years, Quirk's Marketing Research Review has been providing practical applications in marketing research. Their mission is to be the marketing research information source for those that conduct, coordinate and purchase research product and services. In 2015, Quirk's launched their very first Quirk's Event. These interactive conferences are an inclusive event created for the entire marketing research and insights community.
This year, I not only attended all 3 Quirk's Events, but presented at each one. As the odd man out, being an actual content marketer at a Market Research event, I felt it was extremely important to share my unique perspective on how to scale business in the MR industry with marketing strategy. The irony that market researchers don't necessarily make good marketers is a rich one!
In an increasingly competitive industry, and an increasingly digital world, companies are concerned about differentiating their brand, amplifying their thought leadership, being found online and creating a sustainable lead generation system in order to grow a profitable MR company (can I get an amen?).
In my brief solution demonstration, I offered up the Little Bird Marketing Manifesto for Revolutionary Marketing. I revealed a radical approach to organized content marketing focused on amplifying reach in an increasingly noisy marketplace and creating a predictable stream of sales leads. I even gave insider information about how to build a system totally based on your strategy and company goals to attract your most ideal client.
It was basically a crash course of sorts including immediately actionable tasks to get your message in front of the right audience and organize marketing actions into a system for firm and sustainable lead generation.
Attendees left the session with these takeaways-
How an organized approach creates a predictable stream of leads in a saturated marketplace.
The newest marketing trends and how to use them to properly speak to your ideal client.
The importance of synergy across your organization and how to maximize your marketing efforts.

Get the Most Out of Industry Events
When I attend industry events, I always set my intentions beforehand. While I like to have a little fun along the way (like going to a cat cafe with my daughter - yes CAT cafe), I intentionally utilize every minute I can at events and conferences like this. It does make it a little hectic, but what I've realized is that it is overwhelming more beneficial to my business when I do.
Quick tip - Before you attend an industry event, find the official hashtag for the show. See who is attending and start making those connections beforehand. Try to schedule a couple of meetings to fully utilize your time.
To get the most out of my time at Quirk's London, I brought along my recorder and asked some new friends, and some old, about their favorite parts of the conference and where they thought the future of MR was headed.
A Podcast Recap of the Event
In a recent episode of Ponderings from the Perch, I debrief with Ashley Le Blanc from my team. BONUS - we've added in the actual recordings that I took at the conference. In our podcast segment, Bird on the Street, you'll hear those recordings from Quirk's Event attendees, speakers and staff.
Susan Fader of Insight Navigator at Fader & Associates talks about gamification applications inside market research in some VERY innovative ways to increase participation and improve feedback quality.
"Research can be a very myopic type of business. If you're in qual, you tend to be in a very narrow tunnel, and you don't see how other people do stuff. And if you're in the quantitative side, you have a structure of how you tend to write things. I think coming to these conferences and hearing people present and speak, you hear different perspectives. I have been blown away by the quality and insights that I've gotten from these speakers."
Becky Harris + Pete Hearn, Key Account Directors at Lightspeed Research talk about what surprised them - How forward thinking people are, looking at tech and AI.
"Becky: We see tech as an enabler for insights and analytics - so it's enabling us to connect the dots between all of our different data sets, and pushing that analytic part forward. Pete: on who they hire - we're now a permission based data company - getting data points faster than ever before."
Nancy Hernon, President of G3 Translate, talks about the rise of tech in MR, the importance of working internationally, emerging language markets and how much she loves connecting personally with clients at shows like Quirk's.
"I think a lot of research companies that are going into these newer, smaller markets trying to make a name for themselves, have to overcome a lot to make that footprint happen."
In this episode, you'll hear from so many more - including -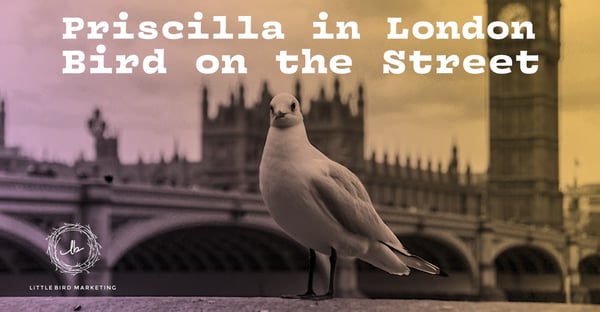 Want to hear more about the event?
Listen to "Priscilla in London Bird on the Street!"
---
Like what you hear?
Don't forget to subscribe to our podcast on iTunes so new episodes download straight to your phone.