How would you describe your website's conversion rates?
Is your traffic hot, and then cold? Are your visitors yes, and then no? Perhaps they're in, then they're out; maybe your leads are up, and then they're down. Do your customers seem wrong when they're right? Does it all just seem so black and then white?
If you are in fact trying to tell us that your website's conversion rates are as antithetical and inconsistent as a certain hit Katy Perry song, well then you're in luck! In a recent episode of the Little Bird Marketing Podcast, Priscilla McKinney and Chris Dayley break down A/B testing, discuss the significance of web design in decision-making, and burst the bubble on catchall best practices for conversion optimization.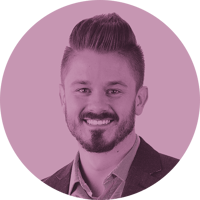 "I've taken the same test concept and ran the same test on two different competitors that supposedly had the same audience, similar products, similar industry, and have seen completely different results. This is because your brand is unique, and your products are unique."
Chris is a neuromarketer and A/B testing wizard at Disruptive Advertising where he focuses on creating and implementing innovative conversion testing programs for businesses.
"Testing is not about having guaranteed wins; it's about learning what your audience wants from the site so it's kind of like playing hot or cold."
As a bonus, he has put together a free A/B testing starter guide featuring recommended tools, first tests to try, and case studies that is available here!
Connect with Chris on Twitter, LinkedIn, or Disruptive Advertising.
For more on the A/B testing and conversion rate optimization tune in to "Priscilla and Chris Dayley are Extremely Disruptive."
Hey! If you like this content, you should subscribe to the podcast!
Subscribe to Ponderings from the Perch on iTunes.