You liked it. You loved it. You wanted some more of it. So here it is! MR Leadership Week on Ponderings from the Perch is back for an encore and featuring a brand new set of insights thought leaders.
We launched MR Leadership week to highlight the movers and shakers in the market research industry. Benefit from the collective wisdom of market research thought leaders, who share their experiences, mindsets and tips for managing in these trying times.
Tune in to hear:



Executive VP, Partner | Fieldwork
Listen in as Sarah shares how Fieldwork able to flexibly and safely retain their high levels of productivity and togetherness.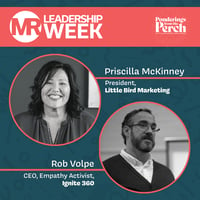 CEO, Empathy Activist | Ignite 360
Join Rob as he gets into great data on how consumers are dealing with the pandemic and recession.

Founder, COO | Paradigm Sample
In this episode, listen in as Robert elaborates on how Paradigm Sample is meeting this pandemic head on and moving forward.



AJ Keirans
VP, Client Development | DISQO
Tune-in as AJ unpacks his views on being open to evolution by embracing varying perspectives, and how those relationships can be adapted in virtual settings.

Thought Leader | GreenBook
Join Priscilla and Lenny as they discuss reliance on data, opportunities for experimentation and exploration in a new work paradigm, and staying connected to workers in the field as a key to providing helpful direction.
Like what you hear?
Be sure to subscribe to Pondering from the Perch on Apple Podcasts
or wherever you listen so you never miss an episode.
---

Speaking of MR Superstars
Have you cast your vote for your favorite MR podcast?
In partnership with GreenBook, we're excited to host and award one podcast in the insights industry the title and glory of MR Podcast of the Year.